Artistic Research
An original, speculative and dynamic approach to education, research and art. The Artistic Research program is created and led by Macic at the Fine Arts department at the Royal Academy of Art, the Netherlands.
The curriculum includes individual tutoring, workshops, contextualising talks, presentations, research projects, and practical and theoretical explorations. The program offers a series of theoretical, multidisciplinary and performative lectures, which provide a basis for further research.
Together with students, Macic organises a
Research Symposium
, inviting guest speakers from various disciplines and fields to give presentations, lectures and workshops.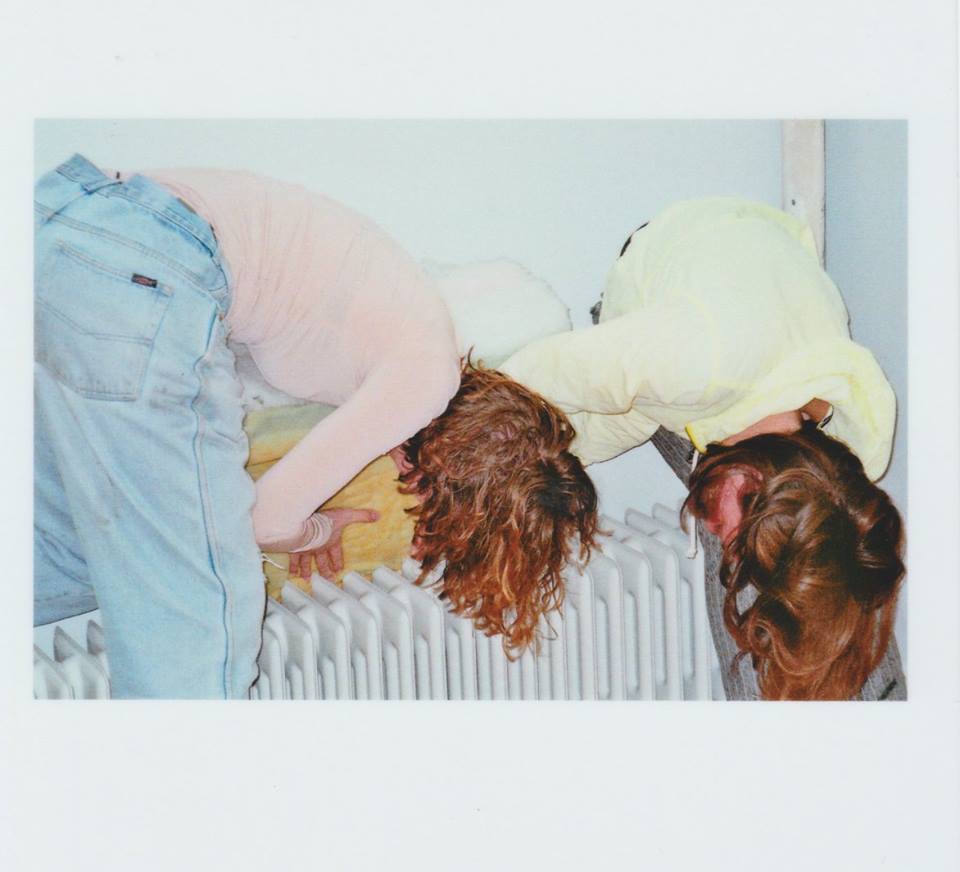 Photo: Ariane Toussaint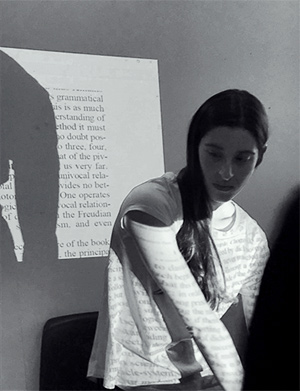 Performing Theory
Can theory be understood and researched through experiences? Performing Theory is a series of Performance Lectures, workshops, masterclasses, performative reading sessions, experiments and performance art pieces, in which theory is researched through performance practice. The artistic point of departure is to conduct unconventional theoretical research by creating an experience and by engaging one's senses and body.
For example - instead of classical reading of theoretical texts - the act of speech, movement and touch are explored as learning tools. One is invited to engage in playful experimentation using strategies such as improvised movement, performative reading, and collaborative performance.
This approach leads to new, experimental forms of making art, doing research and learning.
Some of the theories and concepts which have been closely explored in Performing Theory are the
rhizome
by Gilles Deleuze and Felix Guattari, the
spectacle
by Guy Debord and
abject
by Julia Kristeva.
Research & Discourse
The course critcally relates creative practice to theory - making to thinking - in the framework of contemporary practices of artists and designers. The program offers a broad critical context in the form of (Discourse and Research) lectures, for which Macic invites notable guest speakers from various disciplines.
The students relate this knowledge to their own art/design practice in research groups. Which insights, skills, approaches and methods does an artist or a designer need to develop in order to build a successful creative research-oriented practice? And how can artists/designers position their practice in a broader context?
Research & Discourse is mandatory for the students of Fine Arts, Graphic Design, Photography, Textile and Fashion, Interaction Media Design (I/M/D), and Interiour Architecture and Furniture Design (IAFD).
Macic is the head of the program and leads a team of research teachers. Maarten Cornel is responsible for the Discourse part of the program.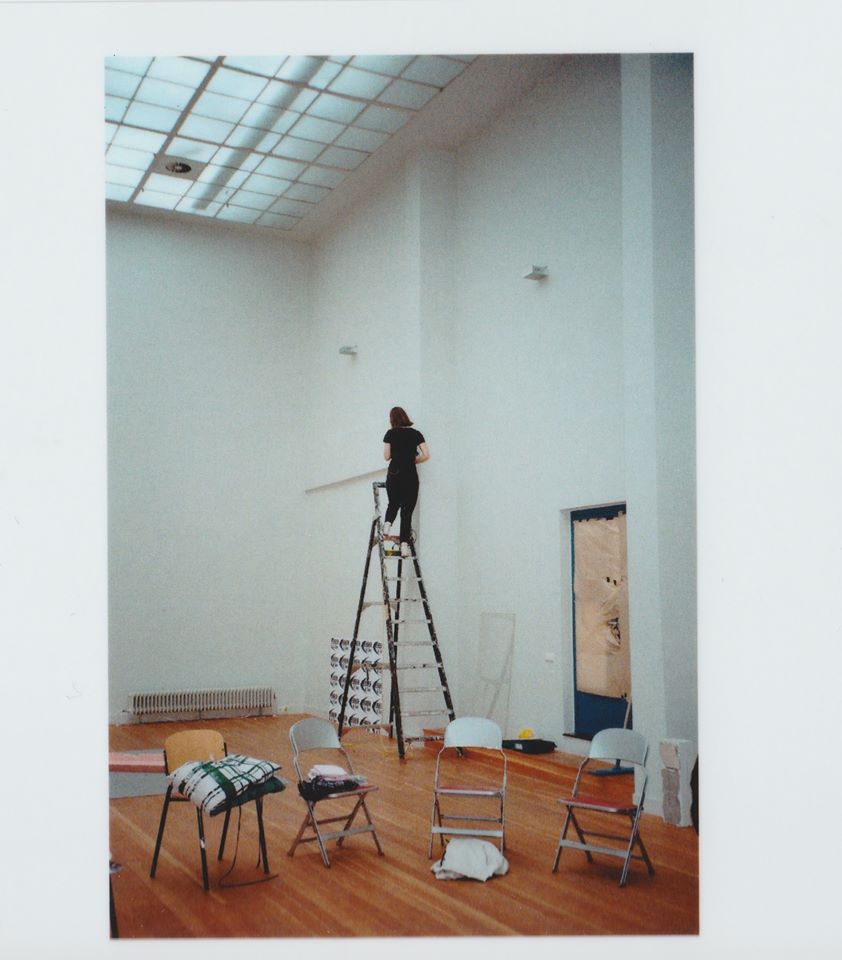 Photo: Ariane Toussaint
Exhibition Research Lab
Is an exhibition a mere platform for presenting an artwork? Or is it an intrinsic part of the creative process? Where lies the difference and what are the implications of these different positions for the artist's research process and artistic practice? How do various curatorial roles relate to notions of artistic autonomy? Why do artists make exhibitions anyway?
This interdisciplinary course offers students of the Royal Academy of Art and Leiden University practical and theoretical knowledge and understanding of exhibition making in general, and of the potentialities of exhibition making in relation to their own artistic practice in particular.
Tatjana Macic is the tutor of the Exhibiton Research Lab, which is a part of the artistic research program of the Lectorate Art Theory & Practice at the Royal Academy of Art in the Hague.
---

Symposium A shared authorship: On the collective and participatory nature of exhibition-making today, Guest Speaker: Giacomo Ardesio, architect at OMA*AMO and Fosbury Architecture, Rotterdam. Moderators are students from the KABK and Leiden University, 2017.

Reading the City, a reading group based on the notion of floundering by Walter Benjamin, at KABK in 2016 and 2017.

Curatorial practices in The Other Europe, Master thesis, Theory and History of Contemporary Art, the University of Amsterdam, 2011. A pionering research about how the shift of paradigms and social turbulence influences curatorial strategies and trajectories. While taking into an account Bourdieu's concept of the agent in the field of cultural production, habitus and 'taste' and concept op rhizome by Deleuze and Guattari.

Positioning the Art Gallery, Tatjana Macic, in: Tubelight, in Januari / Februari 2013.
Critical review (in Dutch) of the publication Positioning the Art Gallery, Het Amsterdamse galeriewezen in een internationale context - The Amsterdam Gallery World in an International Context (ENG/NL), Noor Mertens, Astrid Vorstermans (ed.), Jan van Adrichem, Dominic van den Boogerd, Xander Karskens, Noor Mertens, Tineke Reijnders, Olav Velthuis. Valiz, Amsterdam, 2012

Forms of ownership in former Yugoslavia, lecture, at de Meent, Amsterdam, 2012

Umetnicke avantgarde i veliki preokret - Psihoanaliticki model Hala Fostera, (in Serbian), Artistic avant-gardes and the great shift - the psychoanalytical model of Hal Foster, in: Odgovor, art journal, Serbia, 2011.

Curatorial Contradiction - interview with Dieter Roelstraete, by Tatjana Macic, HTV de IJsberg, JANUARY / FEBRUARY, 2009.

Sociopolitical turn in the early works of Marina Abramovic. Paper focuses on the connotations and the reception of Abramovic's work from the Seventies to the beginning of the Balkan War, highlighting and unearthing socio-politically engaged themes in Abramovic's early artistic discourse. Bachelor thesis (in Dutch), the University of Amsterdam, 2009.

Dusan Rodic, Introductory text in artist' graduation catalogue Gerrit Rietveld Academy, 2010.

Performance interrupted: death and the other fabulous nonsense, in: HTV DE IJSBERG, 2009

Abject performing body, virtual palm trees and mental pictures, HTV de IJsberg, Nr. 81, 2009.

PSWAR's Intuitive practice and theoretical framework, HTV de IJsberg, Nr. 79, 2009.

Ivan Grubanov: Artist as an agent of change, MARCH/ APRIL, 2009. Part of an on-going series of essays and critical thoughts under the collective title: ARTIST AS A SUPERHERO.