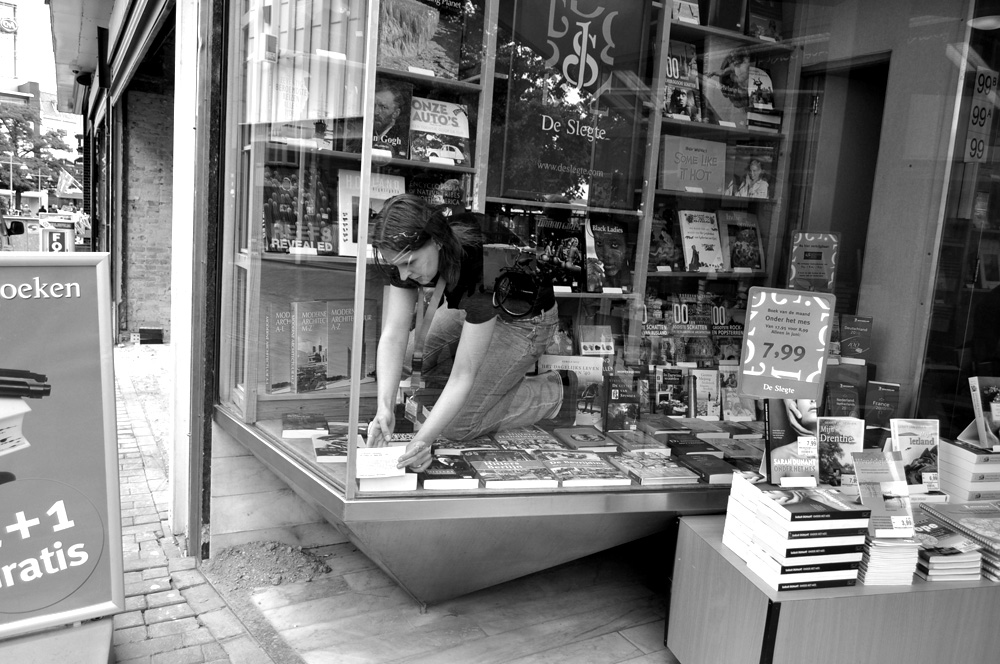 Museum collection on the street, installation in public space, Hilversum Museum, The Netherlands

Shop manager at de Slegte bookshop addopts an atwork of Museum Hilversum, during Art in the City festival

Museum collection on the street is an artistic intervention in public space by Tatjana Macic in collaboration with the artist Bogomir Doringer, commissioned by the Museum Hilversum. In light of the recent budget cuts by the Dutch government, Macic and Doringer ask the following question: What would happen to the museum collection(s) if the relentless cuts in funding for Arts and Culture by the Dutch government would leed to closure of the museum? The artists engaged in conversations with local bank managers, shop managers and other inhabitants in Hilversum, asking them to temporarly addopt one or more artworks from the museum collection.

PERFORMING THEORY
ECCE HOMO X
NEW HORIZONS
EAST / WEST THEORY
CLOSER
ON THE ROAD
CLARK ON GABLE
THE EVOLUTION OF SPECTACLE
WHITE ON WHITE
ARMEN BENEN
MUSEUM COLLECTION ON THE STREET
CHANGE THE WORLD PROJECT
MEMORIES, STORIES AND INVISIBLE TREASURES
HISTORY IS US
DEMOCRACY AND OTHER FAIRY TALES
RED LINE
SOUND WALL
GRAPHIC NOVEL MNEMOSYNE
PA
ELECTRIC ZOO
DIGITAL GOD