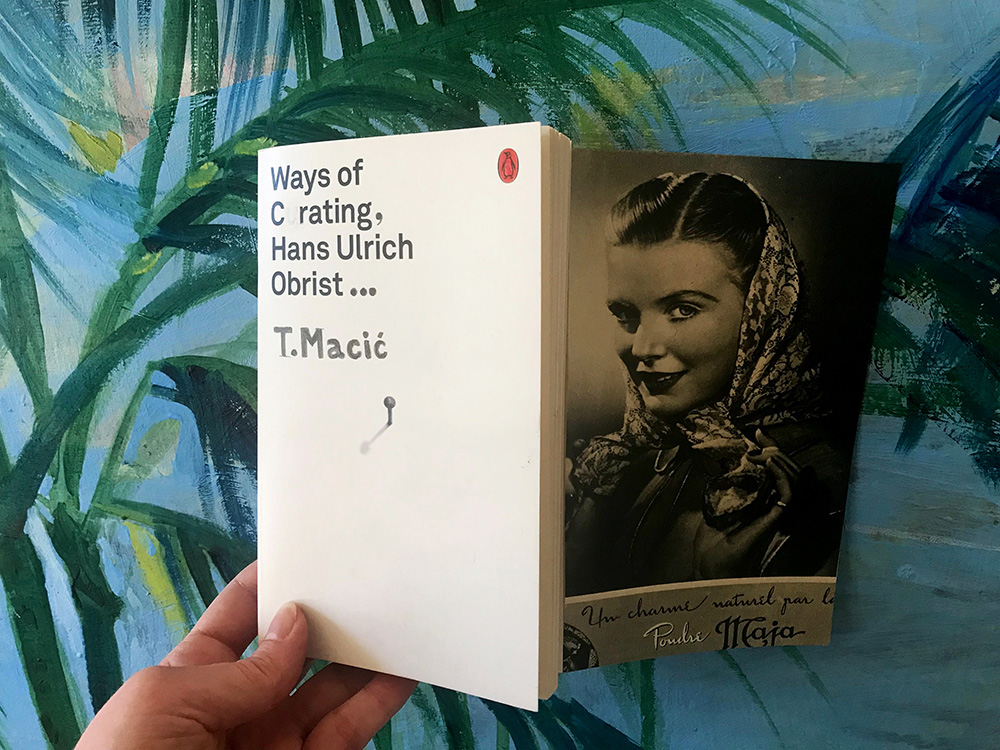 'Ways of Crating, Hans Ulrich Obrist...' Paper collage, ink, razors and glue. 122mm x 183mm x 15mm, 2018. An intervention in publication: Ways of Curating, by Hans Ulrich Obrist, Penguin, 2015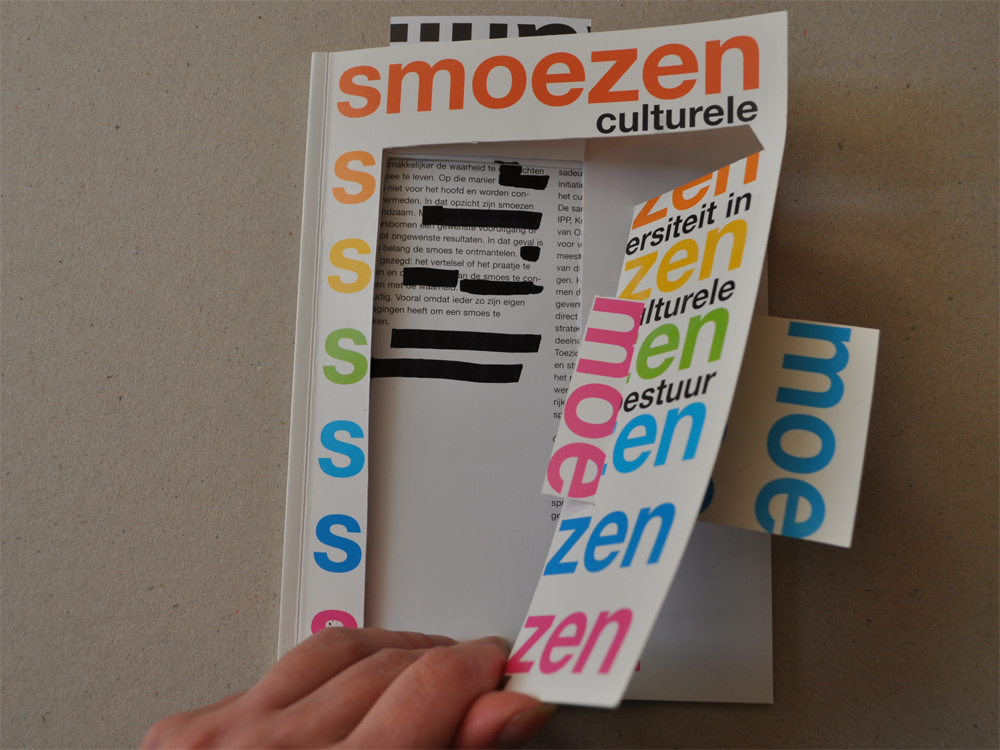 S-moe-zen an intervention in Het Smoezenboekje, by Tatjana Macic, 2009

Het Smoezenboekje (The Little Book of Excuses), is a pulication by Atana, Instituut Publiek en Politiek, Kunsten '92, Kunst en Zaken, Ministerie van OCW en Netwerk CS; April, 2006.

DEMOCRACY AND OTHER FAIRY TALES
A deconstruction of publications, brochures and books published originaly by the art funds, museums, artist's initiatives and various institutions and networks.
Selected publications address political and social theme's such as political engagement of the artists, institutional (mission) statements and reports, debates about Western and Eastern Europe, gender politics, cultural or national identity and art funding. By manipulating and deconstructing form and content of the publications - for example by inserting collages and drawings, changing the existing text and imagery, and subtracting or adding substitute content - the artist performs subversive artistic intervention. Some interventions involve chemical processes.

The first limited edition is based on 20 original publications, each in a series of 5 to 25 artist's books. In the first edition Tatjana Macic is focusing on the Dutch publications including those of the Mondriaan Foundation, European Cultural Foundation, The Netherlands Foundation for Visual Arts, Design and Architecture, de Overslag, Prince Claus Award, Stedelijk Museum Amsterdam, Van Abbemuseum, Museum Boijmans Van Beuningen and others.

The second edition is based on the international publications.

PERFORMING THEORY
ECCE HOMO X
NEW HORIZONS
EAST / WEST THEORY
CLOSER
ON THE ROAD
CLARK ON GABLE
THE EVOLUTION OF SPECTACLE
WHITE ON WHITE
ARMEN BENEN
MUSEUM COLLECTION ON THE STREET
CHANGE THE WORLD PROJECT
MEMORIES, STORIES AND INVISIBLE TREASURES
HISTORY IS US
DEMOCRACY AND OTHER FAIRY TALES
RED LINE
SOUND WALL
GRAPHIC NOVEL MNEMOSYNE
PA
ELECTRIC ZOO
DIGITAL GOD