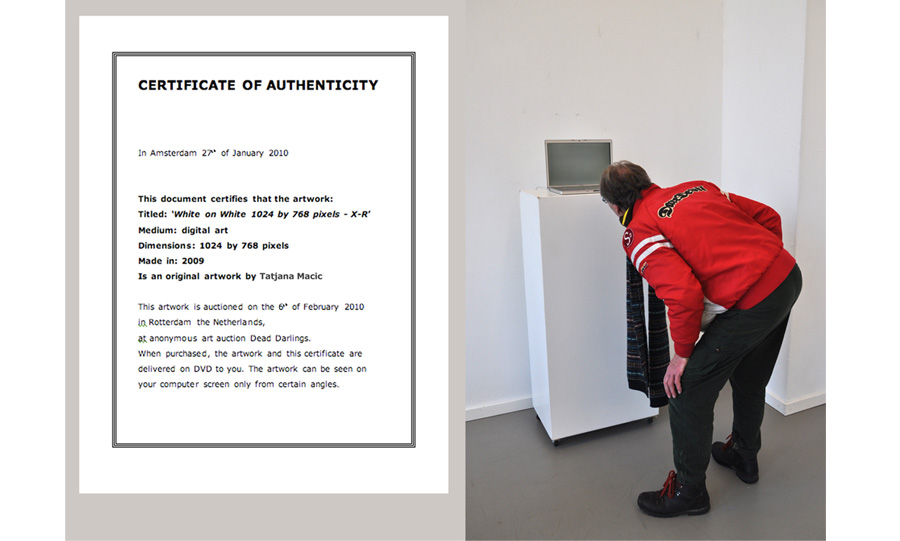 White on White 1024 x 768 pixels X-R, sold at an art auction, Dead Darlings, The Zwarte Ruyter, Rotterdam, The Netherlands, 2009

Digital artwork that can only be seen on a compute screen when one twists one's body and tilts one's head for at least 45 degrees. The art buyer got this digital work of art as JPG file on computer memory stick. Accompanying this work is a èCertificate of the Authenticityî, a digital Word file, proclaming the authenticity of the artwork.
Walter Benjamin argued that by the separation of the original artwork from it's reproduction something unique is taken from the work of art. One of the questions posed in this work is: What if there never was an original work of art? What if all there is are reproductions of the reproductions? What if each reproduction is an original? What did the buyer at the auction actualy purchase? Aesthetic and formalistic starting points for this searie of works are late works of the abstract painters such as Malevich and Mondriaan. In 'White on White'' a reference is made to Malevich's Suprematist composition 'White on White' from 1918.


ECCE HOMO X
NEW HORIZONS
EAST / WEST THEORY
CLOSER
ON THE ROAD
CLARK ON GABLE
THE EVOLUTION OF SPECTACLE
WHITE ON WHITE
ARMEN BENEN
MUSEUM COLLECTION ON THE STREET
CHANGE THE WORLD PROJECT
MEMORIES, STORIES AND INVISIBLE TREASURES
HISTORY IS US
DEMOCRACY AND OTHER FAIRY TALES
RED LINE
SOUND WALL
GRAPHIC NOVEL MNEMOSYNE
PA